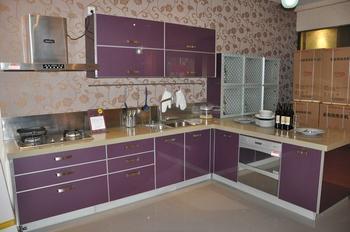 The whole cabinet is not unfamiliar to consumers, and because of its beautiful appearance and practicality, the whole cabinet is more and more accepted by consumers. Recently, the reporter discovered during an interview that many of the overall cabinet stores nowadays are equipped with kitchen stoves such as hoods, disinfecting cabinets, gas stoves, and cupboards. This one-stop shopping has gradually become the mainstream trend.
One-stop purchase is convenient and beautiful. When I was decorating my home, I was custom-made whole cabinets. Later when I bought the hood, I found that it was not completely compatible with the cabinets. However, it is quite good now. The gas cookers and disinfecting cabinets are all designed and installed together. Convenient, but also in the shape is more like an artwork. A Ms. Zhao, who is purchasing cabinets for her son's wedding room, said.
Daxin cabinet brand official said, kitchen integration is not simply a simple combination of cabinets and appliances, but based on customer demand, overall configuration, overall design and overall construction, thus enhancing the overall style of the kitchen, layout, Functions and grades. It has undergone a revolution in traditional, decentralized home appliances, cabinets, and kitchens, allowing kitchen design and development to closely integrate with real life, finding the best fit between the three, allowing consumers to experience integrated design and integration. Configuration, integrated installation, and integrated service make the kitchen more convenient and comfortable, and the kitchen layout is more scientific and reasonable.
Buy brand furniture more assured reporters found in the interview, although many stores have made the cabinet into a different style to show consumers, but due to different materials, the same cabinet due to different drawers or hardware accessories, the price is very different, let Consumers are looking dazed. For example, the purchase of cabinets is generally based on denomination pricing. The most common is that the wall cabinet + cabinet are denominated in denominations, and the countertops, cabinets, and hardware are priced separately in meters. Therefore, consumers need to understand the components of a set of cabinets when purchasing cabinets. This will enable you to avoid consumption traps when buying cabinets. When choosing cabinet accessories, it is not the better, but based on actual needs and budget to choose, do not blindly increase, eventually leading to over-cost cabinets.
In addition, although all of them are focusing on the integrated kitchen and television sales model, most of the overall cabinet dealers currently do not have their own brands of kitchen appliances, and are basically mixed with other well-known appliance brands. Cabinet brands come with kitchen appliances. Not too much. When choosing the whole cabinet, consumers can choose other brands of kitchen electric products, or they can choose the same brand of kitchen electric products. It is best to buy a trusted brand that you have used or that is well-received.
Azithromycin is manufactured by CSPC OUYI which is the main API product in CSPC OUYI which is the largest azithromycin manufacturer in China with capacity of 600MT per year. The product can meet CP, EP, USP,BP and is qualified by China FDA, US FDA, EDQM, WHO PQ, Indian DCGI, Russia FDA etc and is sold into domestic market and exported into all over the world such as Asia, America, EU, etc. CSPC OUYI is qualified supplier to many world-famous Pharma Groups. Its package is 25kg/fiber drum which can be suitable for domestic and overseas shipment. The azithromycin plant was accepted by all the foreign customers and institutions as most modern API plant. And there is dedicated space in azithromycin plant to micronize the product to meet the different particle size demand from the different customers.
Macrolides Antibiotics Raw Material
CSPC Pharmaceutical Group Limited , https://www.cspcgroup.com